<< the musicians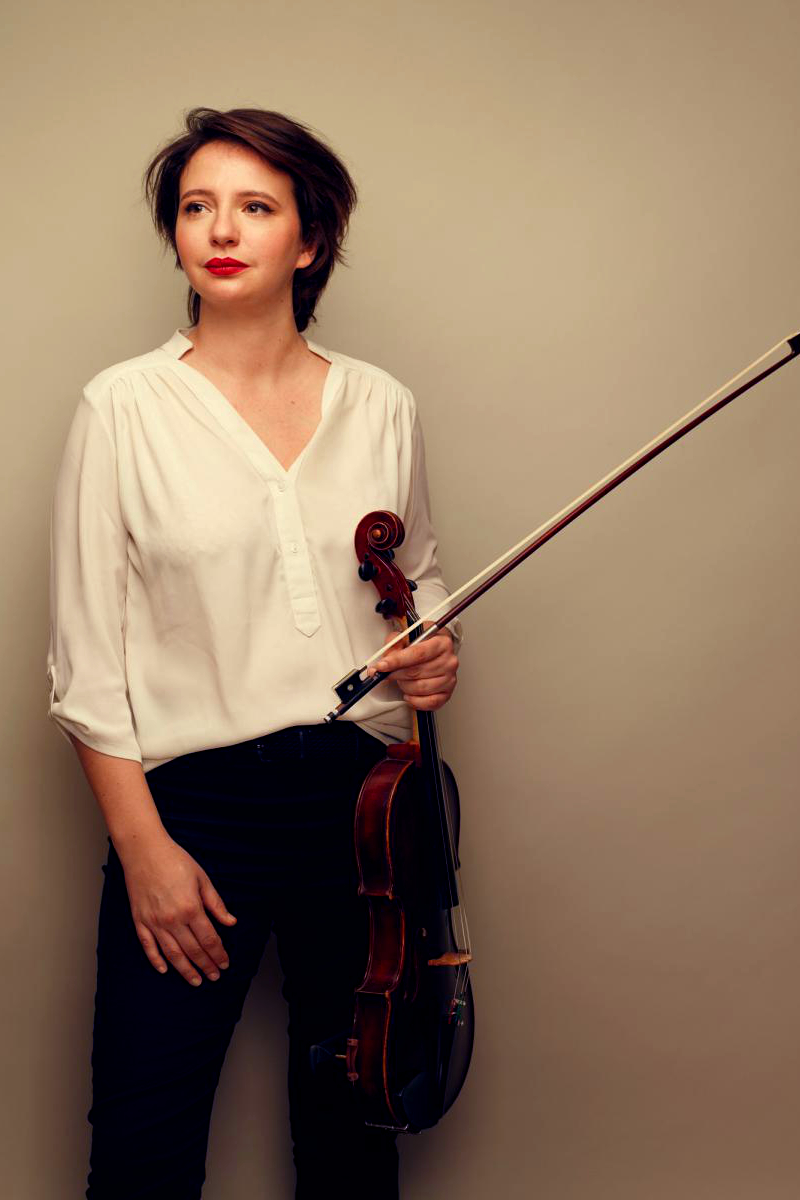 Hélène Desaintviola
What a pleasure it is to work with Kheops! In addition to our high musical standards, it is the shared human values of music, passion, exchange that give the Kheops ensemble its full meaning!
Biography
Numerous are the experiences rich in learning, self-discovery and exploration of the instrument in which this young viola player shines. Hélène Desaint lives her music through encounters and exchanges, relishing the demands and the satisfaction that they bring.
Hélène Desaint has taken part in many performances at festivals in Belgium and France, where she has shared the stage with musicians such as Augustin Dumay, Louis Lortie, the Voce, Psophos and Akilone quartets, Ronald van Spaendonck and Gary Hoffman.
For the past three years she has been a member of the ensemble 2e2m, giving her the opportunity to focus on modern and contemporary repertoire. At the Présence festival in 2008, she premiered the piece 'Trois Strophes sur le nom de Patrice Lumumba' for solo viola and ensemble, which was dedicated to her by composer Bernard Cavanna and which she has recorded for Æon. 2019 saw the release of a film by Alain Fleischer portraying a performance of a quartet by Steve Reich. The film was selected in the official competition at the International Festival of Films on Art in Montreal. Desaint recently performed as soloist with Ars Nova at the Philharmonie de Paris, with the Gulbenkian Orchestra in Lisbon and most recently with the Orchestre de Caen under maestro Kanako Abe. Taking her inspiration from the dialogue between performers and composers, she is drawn to chamber and contemporary music – two paths that she has forged for herself since her formative years.
Hélène Desaint began her musical education in Paris and Gennevilliers, before being accepted into the CNSMD in Lyon, where she took part in numerous projects and collaborations based around today's music. The studies that followed – from the Musikhochschule Lübeck to the Haute École de musique in Geneva, from which she graduated with a Master's in Solo Performance in 2011 – were strongly influenced by the teaching of Miguel da Silva. Further innovative and rewarding musical encounters were to come during her residence at the Queen Elisabeth Music Chapel, which she concluded with a recording of a Schumann/Kurtág CD released in November 2018 under the Fuga Libera-Outhere label.
In February 2019, a box set of the works of Eugene Ysaÿe, to which she contributed a recording of his String Trio 'Le Chimay', was awarded a Diapason d'Or.
Hélène Desaint was honoured in the 'Génération Spedidam' 2015, and benefitted from the recognition and the support of the Mécénat Musical Société Générale (2009) and the Adami (2010).
She plays an 1882 violin by Giuseppe Sgarbi on generous loan from a German sponsor.