<< the musicians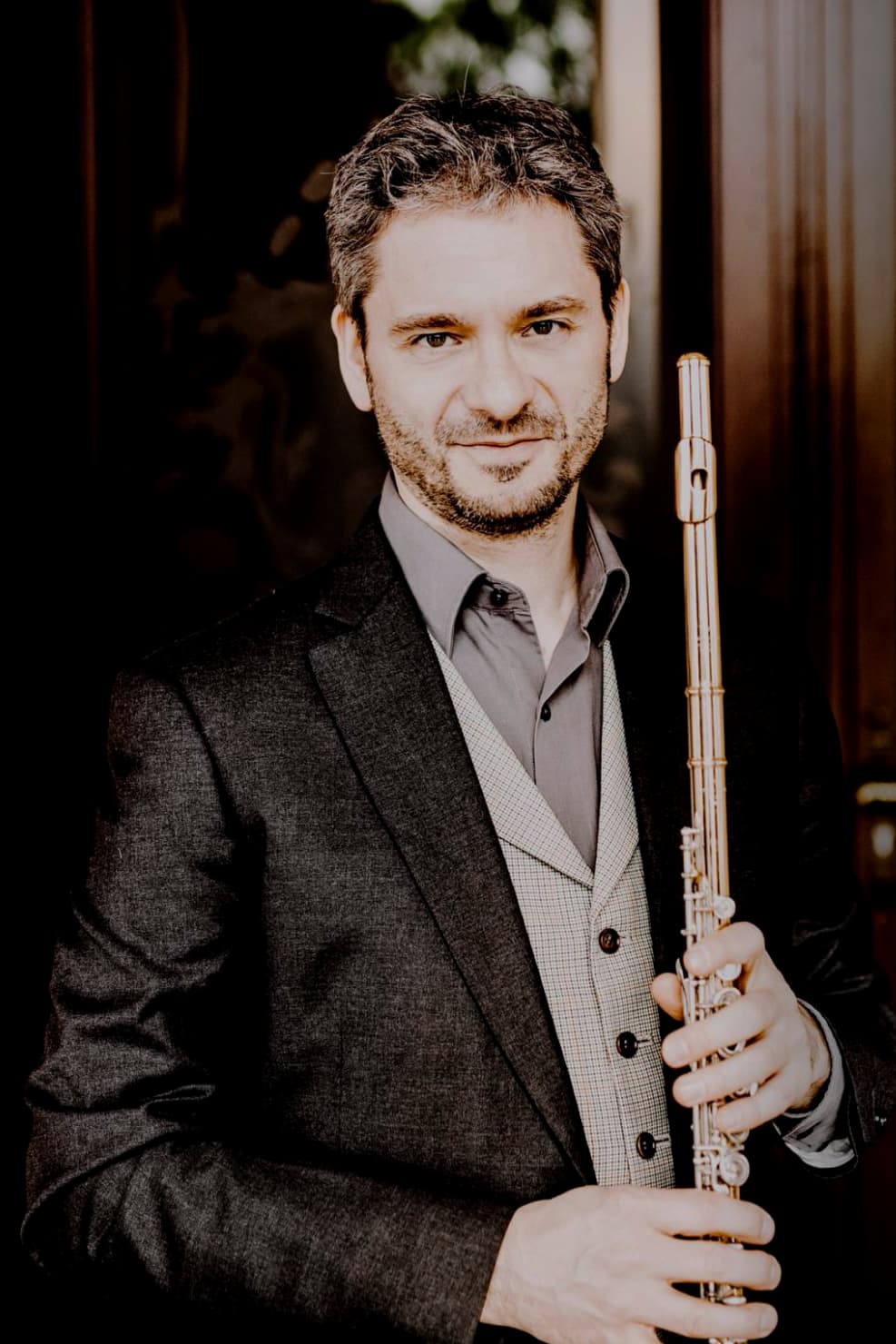 Aldo Baertenflute
25 years of shared experiences, friendship, musical experiences and unforgettable moments. Thank you all!
Biography
Aldo Baerten is Principal Flautist at the Antwerp Symphony Orchestra, conducted by Elim Chan, Edo de Waart and Philippe Herreweghe, and previously by Jaap van Zweden.
He teaches flute at the Royal Conservatoire in Antwerp, at the Hogeschool der Kunsten Utrecht (NL) and gives master classes on 4 continents, in schools such as the Royal Academy of Music in London.
Aldo Baerten is former Professor of flute at the Sydney Conservatory, at the Münster Musikhochschule and Hannover Musikhochschule (Germany). As from October 2016 he will be teaching at the Hochschule für Musik und Theater Köln/Aachen.
He is a regular guest with the Chamber Orchestra of Europe, Mahler Chamber Orchestra, I Fiamminghi, European Union Opera, Arctic Philharmonic, Swedish Chamber Orchestra and the Rotterdam Philharmonic Orchestra.
During his studies at the Conservatoire Royal de Bruxelles, with Peter-Lukas Graf (Musikhochschule Basel), where he obtained the Diploma as a Soloist, with Philippe Boucly (München), and with Gaby Pas van Riet (Stuttgart), he was successful in competitions such as 'Maria Canals' (Barcelona 2001), Vienna (2004), Axion Classics, Quantz, and the National Instrument competition of Belgium.
He was awarded the Alex de Vries-prize, the SABAM-award, and the Caecilia-prize of the Belgian music-press.
Aldo Baerten has performed as a soloist with orchestras as the Südwestdeutsches Kammerorchester, RSO Basel, National Orchestra of Belgium, Walloon Chamber Orchestra, the Royal Flemish Philharmonic, Las Vegas and Kansas City Symphony, Samaai Sinfonietta under the batons of D. Stern, V. Czarniecki, P. Rundel, G. Octors, Z. Nagy, T. Yuasa, S. Byess, E. Aadland, R.Wilson and S.Mäkkilä.
He is a regular guest at festivals around the world, sharing the stage with musicians including J. van Dam, Martin Helmchen, Severin Von Eckardstein, Martin Spangenberg, Niek de Groot, StorioniTrio, Michel Strauss, Alexei Ogrintchouk, Hervé Joulain, Kandinsky-trio, Jana Bouskova, Dietrich Henschel, Tatjana Masurenko and jazz pianist Jef Neve.
He has recorded extensively on Cypres, Phaedra, ECM, Pentatone and PMP and Principal Chairs.
His recording of Schubert's Introduction, Theme and Variations on Trockne Blumen (die schöne Müllerin) with pianist Martin Helmchen was nominated for the BBC Music Prize of Best chamber-music recording of the year 2010.
From 1989 to 1993 he was Principal Flautist with the European Union Youth Orchestra, where he played under conductors such as B. Haitink, V. Ashkenazy, V. Neumann, J. Conlon and J. Tate. He was also chosen as Principal of the Schleswigholstein Festival Orchestra (Sir G. Solti) and the World Youth Orchestra. Aldo Baerten has been Principal Flautist of the Belgian Chamber Orchestra and the MDR-Sinfonieorchester Leipzig.
His yearly summer master class International Flute Seminar Bruges is a highlight for professionals and amateurs : www.ifsb.be
Aldo Baerten is Powell Flute artist.